During the 1980s and '90s, a group of service and ex-service personnel undertook a series of challenges – The Home-Run Challenges – to gain sponsorship to support the funds of the Royal Air Forces Escaping Society.
The events followed the routes of many of the former escape-line routes that criss-crossed Europe, and involved, at some stage along the route from Norway to Gibraltar, parachuting, cycling, walking, sailing and swimming.
 As a result, contacts were established with many former 'helpers', escapers and evaders, encompassing people from all walks-of-life, and of many nationalities.
These events were supported and encouraged by members of the RAFES, The Army POW Escape Club, The Monte San Martino Trust, SOE veterans, the FANY, the MGB Association, former Resistance workers, many others and, of course, the 'helpers' themselves.
 By 1994, the Escape Lines Reunion emerged – supported by the Home-Run participants and many members of the aforementioned organisations.
By 1996, sufficient artefacts and memorabilia had accumulated to establish an 'Escape Lines' display at Eden Camp Museum , North Yorkshire.
 By 2003, support had grown sufficiently to establish the 'WW2 Escape Lines Memorial Society', and in 2006 ELMS unveiled and dedicated a unique memorial – 'The Helper Memorial' at Eden Camp [combining a base of Pyrennean Granite, topped by a plaque of Lakeland Slate – depicting the union between France and Great Britain during WW2]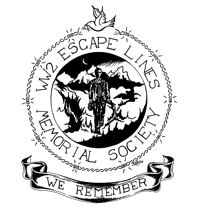 "I help the old to remember and the young to understand"
[Gervase Cowell MBE 1926-2000]
The Society logo depicts a lone man walking over mountainous terrain by moon-light, within a circle of barbed-wire, which is broken by the Dove of Peace – evocative of the experiences of former WW2 escapers, evaders and 'helpers'.