---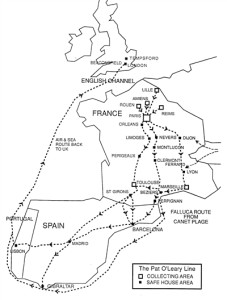 During the dark days of 1940, many evaders from the British Expeditionary Force, who had fought rearguard actions in Northern France in order to allow others to escape from many of the northern ports including Dunkirk, Calais, and St Valery en Caux, now found themselves gathering in the southern sea port of Marseille. Many of these evaders were from the 51st (Highland) Division. They had no money, no accommodation, and no friends.
Amongst the many Highlanders was Capt Ian Garrow of the Seaforth Highlanders, who had also made his way south. He quickly decided that something had to be done for the men, in order to acquire food, accommodation, and a way out of France. Garrow made contact with Capt Frederick Fitch, who had arrived earlier, Lt William Sillar and F/Lt Paddy Treacy. [Later Capt Charles Murchie, an escaper from a POW camp, joined the group and took over duties from Fitch when he subsequently crossed the Pyrenees.]
The Rev Donald Caskie had left his Scottish Church in Paris just ahead of the Germans [who were not impressed by his sermons!] and taken over the Seaman's Mission at 46 Rue de Forbin in Marseille, on the understanding that it was only to be used for civilian refugees. As a fellow Scot, he immediately joined up with Garrow's group, providing them with a key location.
The Seaman's Mission became, possibly, the largest safe-house in France. Food and funding came in from anonymous individuals. Food was left in the doorways of the mission at night, and anonymous telephone calls gave notice of police checks. Uniforms were collected by Caskie, placed in a sack with rocks, and dropped into Marseille harbour at night. An escape line had evolved, and escapers and evaders now started to move from Northern France to Marseille, then over the Pyrenees, and on to Gibraltar.
Another early key helper was Dr Georges Rodocanachi (known as Rodo). He had been born in Liverpool, spent his school days in Marseille, was educated in Paris, and was of Greek parentage. Together with his wife Fanny, and their elderly maid Seraphine, Rodocanachi ran the line's main safe-house in Marseille at 21 Rue Roux de Brignoles, using his doctor's surgery as a collecting house for evaders. This address later became the HQ of the Pat O'Leary Line.
Many others came to the line at this early stage including Tom Kenny, a Canadian resident in Marseille, Georges Zarrifi, Louis Nouveau and Elizabeth Haden Guest. The German file for the line in Marseille was called Acropolis because of the number of Greeks thought to be involved with it.

On the 31st May 1940, a Belgian doctor, Albert-Marie Guerisse, had left the beaches of Dunkirk for England. On the capitulation of Belgium he returned to France, but in the chaos that was taking place, headed south again, to join other Belgians on their way to Gibraltar to continue the fight. Guerisse had been taken on by SOE and assumed the identity 'Pat O'Leary', a French Canadian, in order to protect his family in Belgium. By April 1941 O'Leary was second in command of HMS Fidelity, working for SOE. Fidelity was a 'Q' ship working out of Gibraltar, whose role was inserting agents, and the extraction of agents and evaders from the French Mediterranean coast. It also took part in small-scale sabotage operations.
O'Leary was responsible for taking agents to the beaches and collecting evaders and agents in small skiffs then returning with them to the mother ship. On the night of the 25 April 1941, on the return journey to Fidelity, having dropped off agents, the small engine on O'Leary's boat cut out and the boat overturned, leaving him to swim ashore. He was arrested and sent to St Hippolyte du Fort to join other British prisoners. After a short period in captivity O'Leary escaped and made his way to Marseille. There he arrived at the Rodocanachi safe-house; contact was made with Garrow, and O'Leary joined the line. Later, when Garrow was arrested in October 1941, O'Leary took over command.
The routes used by the line were wide and varied. Most came from northern France, Lille, Rheim, and the Paris areas. Others, escapers from Italy, reached Switzerland and had to 'escape' again into occupied France. Once in France they usually made contact with O'Leary. Some escapers arrived from Colditz into Switzerland, and again departed via O'Leary to Gibraltar. Although most mountain routes used by O'Leary traversed the eastern Pyrenees, after Marseille was compromise in early '43 they moved to the higher central Pyrenees which became much more difficult and dangerous to negotiate.
Other routes used by O'Leary were the Gibraltar based feluccas, running the gauntlet to the French coast, often to Canet Plage near Perpignan. The feluccas, which inserted agents from Gibraltar and returned with agents and evaders to Gibraltar, were usually
crewed by Polish seamen. Although the Polish crews were mainly SOE, they were also a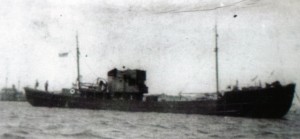 'shared facility' used by MI9, SOE, and SIS. Often HMS Tarana, a much larger vessel, was used as a mother ship for these operations. HMS Fidelity (formerly Le Rhin) was also used during 1941. The two main fellucas used were Seawolf and Seadog, and other fellucas were loaned from SOE.
In December 1941 the line was unfortunately infiltrated by one of the worst traitors of the war. Harold Cole had been a criminal in London, who, trying to keep one step ahead of the police, had joined a Territorial Royal Engineer unit on its way to France in 1940. He had lied to the army about having a military and Foreign Legion background, and was given the rank of Sgt. Once in France he is reported to have absconded with the Sgt's Mess funds, and following a number of adventures became a very successful courier on the line from Northern France to Marseille, usually being based in Lille. On the 2 November 1941, Pat O'Leary and others confronted Cole in Rodocanachi's flat, about the stealing of the line's funds. He escaped from the flat, returned north, and was arrested by the Gestapo. At this point Cole changed sides. The line was now betrayed in Northern France. Many of its main organisers, couriers, and safe-house keepers were arrested. Others fled to the south; some went over the Pyrenees and on to London. Despite Cole's actions, the line continued moving fugitives throughout 1942, many of them by sea from the area of Canet Plage to Gibraltar.
By early 1943, the line had again set up safe-houses in Northern France and also Brittany. However another disaster was looming in the Paris region; the line had been infiltrated by another Gestapo agent, Roger le Neveu (Roger le Legionaire). This time it was more serious. Many of the line's senior organisers were arrested, including Louis Nouveau and Pat O'Leary, together with many of its loyal workers. Further arrests in Northern France and at Marseille and Toulouse indicated that the line was completely blown and finished.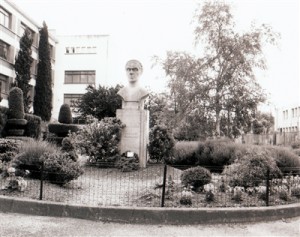 The line had been seriously compromised and required reorganising quickly if it was to survive. Marie Louise Marthe Dissart was still free. Originally working for the network Pierre–Betaux, she had made contact with the O'Leary line in January 43. Her original Resistance name was Victoire, which she now changed to Francoise, and the Line re-grouped around her flat in Toulouse. Francoise organised the hiding of evaders, and also guides to take evaders over the high Pyrenees mountain escape routes into Spain. She was hunted by the Gestapo and became compromised herself, necessitating the movement of her HQ to Bergerac, taking her evaders with her. Francoise remained in Bergerac for nearly five weeks before moving back to Toulouse. She re-established contact with London via Switzerland, and renamed the line The Francoise Line. Her last evaders (18), made up of British and American Airmen had been hidden in her flat on the Rue Paul-Meriel on the 22 May 1944, and then departed for the Pyrenees. Francoise was a truly remarkable lady who kept evaders moving, and the line open, at a time when all seemed lost.