The Danish Escape Lines
---
MI9 operations in Denmark were very limited compared with those further south in Holland, Belgium, and France. Denmark is surrounded on three sides by sea, its only land border being with Germany. Many of the land operations had taken place in the early part of the war, and with the exception of Resistance and SOE operations, few Allied soldiers were involved. The Bomber 'corridor' to the Third Reich' was mainly over southern Holland, Belgium, and Northern France where many of the evasions of aircrew started. Specific targets were identified as the war progressed, resulting in some aircrew being 'brought down' over Denmark. In early 1943 the first identified route was formed from Frederickshaven to Sweden. Until that date individual fishing boats had been taking fugitives into Sweden, or passing them on to Swedish shipping out at sea.
MI9 briefings to aircrew on raids to both Denmark and Norway recommended that, should they be brought down, they travel east to Sweden and keep clear of the defended west coast regions. From early 1943, the route via Frederickshaven had been followed by many others, all involving fishing boats. From October 1943 life changed very quickly; the Germans announced the arrest and deportation of all Danish Jews. The Danish people reacted quickly, and out of a Jewish community of approximately 8000, just over 7500 were taken by fishermen to Sweden and others placed in safe houses. Indications are that only 250 were arrested. Altogether over 18,000 fugitives were taken to Sweden during WW2, including nearly 200 aircrew evaders.
Of the aircrew who were brought down over Denmark, many headed towards Aarlus, Aalborg, and Alback; from there all routes headed for the northern fishing port of Saeby. Many of the boats using the port were very small and had a draft that allowed them to enter shallow waters. Many of them travelled as far as Gothenburg, a distance of 60 miles, but some transferred their fugitives to Swedish shipping in the Kattegat. This was far the best option, enabling the small fishing boats to return to Saeby while still under the cover of darkness, before the port underwent its morning check for missing boats by the German authorities.
At Seaby, Ditlev Pederson organised many packet vessels to sail with evaders between Saeby and Copenhagen. Smaller ships like the 'Elise' and 'Marie' had hidden rooms constructed for fugitives. The fishing boats 'Laura' and 'Karen' were added to the fleet. By the summer of 1944 all the Jutland routes, with their boats, joined into one organisation that included the ports of Skagen, Strandby, Frederickshaven, Saeby, Aalborg, and Grena.
Many airmen who ditched in the sea were collected by small fishing boats and taken to local ports for onward movement to safe-houses. Others who came down in southern Jutland, near to the German border, were quickly collected in and taken across the Islands of Funen and Zealand to Copenhagen, then hidden on the mail boat to Malmo, a distance of 17 miles. Many evaders were badly injured, mostly burns, and remained in safe-houses or hospitals until fit to travel; letters were sent to Sweden, destined for England, informing the British authorities that they were safe. When recovered, the Resistance removed them from hospital, under the noses of the Germans, and placed them onto the escape lines; once in the escape line system, not one aircrew evader was ever caught travelling overland or at sea. However, some fishermen were caught – many on their return journeys.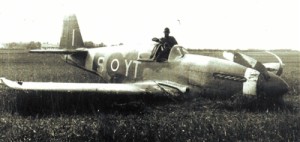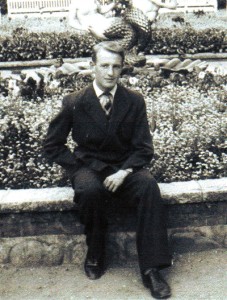 One of the RAF evaders who passed though Saeby was F/Sgt Rowland Williams. Brought down in a field at Hjallerup, he headed south and was assisted by many helpers, some of who advised him to travel north to the Allbaek Vicarage near Saeby. Given assistance at Randers and put in touch with the Resistance, his route was now sorted for him and he made his way south to Aarhus, before heading north again to Aalborg using the identity of a deaf and dumb basket maker. Then on to Albaek, where the safe-house was the vicarage ran by the Rev Arnhem Hindsholm. Later Williams was moved to another safe-house in the village of Saeby, before climbing aboard the FN366 'Laura' of Saeby, an 11 ton fishing boat, skippered by Jens Christian Jenson. He set sail at 2100 on the 05 June 1944 and arrived at Gothenburg in the early hours of 06 June 1944. On the 01 July he flew to Scotland.
Evaders who reached Sweden were interrogated at the prison at Falun, about ninety miles north of Stockholm. Once the authorities were satisfied, the evader was given parole and was free to move around. Transport home was via the air shuttle service between Stockholm and RAF Leuchars in Scotland. The service often used Mosquito aircraft and had a seat fitted into the bomb bay for returning evaders, together with the provision of an oxygen mask and warm clothing!
At the end of the war there were nine organised escape routes to Sweden with independent collection centres for evaders and other fugitives. These main routes were also involved in sub-routes. At least 13 different boats were always on standby to move evaders.

On the 07 June 1986, Rowland Williams visited Saeby again and exchanged gifts with his helper and skipper Jens Christian Jensen. A scale model of a Typhoon fighter was given to Jens Christian, and Rowland received a scale model of the FN366 'Laura'. Today the Laura is on show at the Eden camp Museum.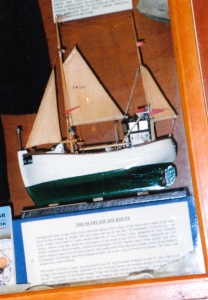 Model of FN 366 The 'Laura'