Geoffrey Thompson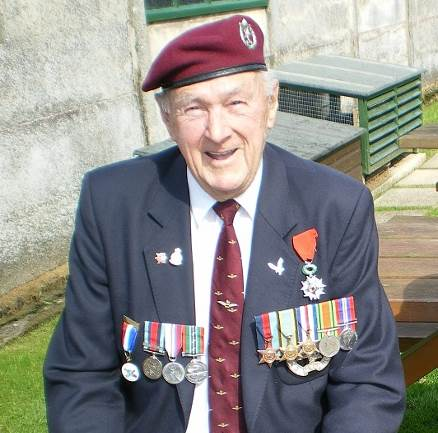 Formerly – South Staffordshire Regt & Royal Artillery
Glider Pilot Regiment – Sgt Pilot
18th September 1944
Horsa Glider – carrying 10 Bn Para Regt, 4 Para Bde
Towed by Sterling of 196 Sqn RAF
Load – Jeep, trailer, ammunition, fuel & men
Geoff had already successfully piloted a Horsa Glider carrying men of 4th Air Landing Brigade to 'Pegasus Bridge' on D-Day before embarking on training for Operation Market Garden – Arnhem.
On Monday 18 September, Geoff flew on the second lift of Operation Market Garden, landing near Wolfheze. The Horsa was evacuated quickly under heavy small-arms fire, and the men headed to the woods for protection. The element of surprise had been lost after the first wave flew in; the enemy were alert to their arrival and fighters continually strafed the area. Geoff moved on towards Oosterbeek. By the next day he had fought his way to the Hartenstein Hotel, the Divisional HQ location. There the situation became serious; RAF supply drops of ammunition and stores had fallen into enemy territory. Food and ammunition became scarce and night patrols were sent out.
With only small arms they fought tanks, aircraft and field guns. Geoff came under heavy fire while using a house as an OP. The men remained in place, so after a lull hand grenades were tossed in, but failed to dislodge the occupants. The enemy returned with an 88mm field gun, fired an armour-piercing shell and demolished the gable-end of the building, killing or wounding the inhabitants. Geoff received wounds to his head, shoulder and left arm, and was temporarily blinded. The wounded patched each other up then staggered to an overcrowded dressing station, where a German Officer approached under a white flag to suggest that the defences around the dressing station be removed, otherwise the building would be shelled. The walking wounded left the station during the night, and headed for the Rhine. With the defences gone, the Germans moved in and Geoff became a prisoner.
He was taken by truck to Apeldoorn where his wounds were treated. Three days later he was taken to the local station, loaded onto a box car and the doors sealed with barbed wire. The wounded occupants had no food, water or toilet facilities. After two days Geoff arrived at Stalag X1B at Fallingbostel, adjacent to Bergen-Belsen concentration camp. Conditions were foul and food and water scarce. In November '44 Geoff was moved to Sagan, then marched to Stalag V111C. Conditions were better but, overcrowded, and food limited. The weather was freezing so beds were used as fuel for fires.
On the 28th of January '45, the German Commandant gave the POWs a choice: wait in the camp for the Russians, or to be marched westward into Germany. Geoff, chose to head west and experienced little food, snow and freezing conditions. Escape came when Geoff and a friend hid in a barn as the column moved on. They moved by night, slept by day and scavenged for food, but were finally arrested and handed to a group of Russians heading to Leipzig.
Later they arrived at Stalag 1XA at Ziegenhain near Frankfurt, where Geoff was taken to the camp hospital and his feet treated for frostbite by an American medic – he was to lose four toes. At the end of March American tanks arrived and transported Geoff to a military hospital at Frankfurt. Deloused and cleaned up Geoff was carried to a waiting Dakota and flown to an airbase near Swindon then, weighing only six stones, he was taken by ambulance to Seacroft Hospital in Leeds. After eight months of nursing and extensive treatment Geoff was restored to reasonable health. Geoffrey Thompson Chevalier of the Legion d'honneur died on 27 February 2017.