HIDDEN ESCAPE ATTIC – HOLLAND
By Roger Stanton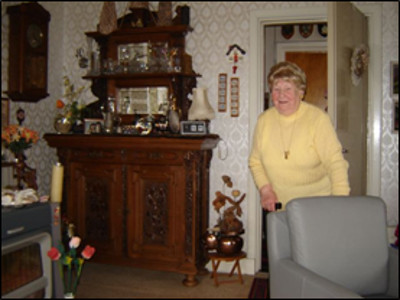 In 2013, an 'escape attic' was rebuilt in the war museum in Hengalo (Eastern part of Holland). The original 'escape attic' was built in the home of ELMS member Mia Lelivelt, one of our 'original' Dutch members. Her father, Martin Lelivelt, was a very active Dutch Resistance member. He was also involved with the Dutch escape lines and collected in evading aircrew, escaping POWs, and other fugitives sought by the enemy. All these fugitives were hidden in the Lelivelt family home, in a secret attic until he had either organised their escape or handed them over to an escape line. Through betrayal, he was arrested by the Gestapo and taken to Camp Vught where he was brutally interrogated and tortured. On July 25th 1944 Martin Lelivelt, aged 48 years, was executed. After the war, to honour him, his street was renamed, Martin Lelivelt Straat. The British Government awarded him an MBE for his work.
Jean Moaning, of the Achterhoeks 1940-1945 Museum visited Mia's house to seek out the hidden attic at Lelivelt Straat in Lichtenvoorde. Thomas Schroer, museum owner, went to the top floor to find the secret hide. There were no doorways and no hatches evident, but after pushing and pressing panels and floor boards a panel loosened and access was gained to the hide. On viewing the hidden space both men decided that the hide had to be preserved for future generations. Unfortunately they could not take it away to the museum so Schroer and Moaning decided that the 'hidden attic' had to be rebuilt in the museum in order to preserve it for future generations. Work now began, using young boys under supervision, to rebuild the hide.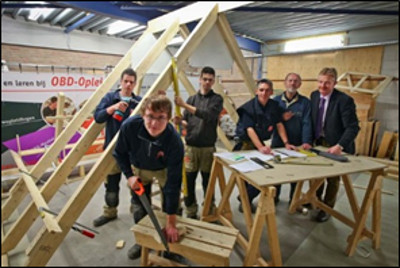 On entry to the museum there are many scenes of the occupation together with weapons, stories, clothes and Resistance memorabilia from over 70 years ago, and at the end of the main corridor is the 'Lelivelt Escape Attic', made by a younger generation. Mia has made a video describing the wartime days at her home, her work to help her father, and detailing a diary of hiding in Keijenborg kept by the family, and knick knacks from a from a wartime generation.
Martin Lelivelt, by his brave actions, ensured that many dozens of aircrew evaders were hidden until it was safe to move them 'down the line'. But not only that, they had to be fed and at times their wounds needed treatment. The hide was an ingenious structure and difficult to gain entry to. When Martin was betrayed the Germans searched his home but found no-one and could not find the shelter. Nevertheless he was taken away to Fort Rhijnauwen for brutal interrogations and later executed. Mia has never really taken leave of her father, he has no grave or place to mourn, as his body was burnt in the furnace. The museum attic is in his lasting memory.
The Germans were led to the house by the infamous Dutch traitor Willy Markus. He was working with the Sicherheitsdienst (SD), had infiltrated the Resistance and then betrayed them. He was a so called 'V man'. He betrayed many people. When Martin Lelivelt led the Germans through every part of his house nothing was found; no evaders; yet they still took him away.
Mia still lives in the house with her memories and explains that the hide was initially to be used as a pantry. She was fifteen when it was built and she assisted her father with the construction and handed him the wood and the nails. Dozens hid in the attic, many finally reaching England via France, Spain and Portugal. Mia explains that it took an awful lot of organisational talent, prudence and secrecy. Every day you had to think about every action you did. You could not hang men's washing on the washing line. Shopping had to take place in other villages where the family were not known. A strict routine was in place for lights and the use of toilets. Life had to appear to go on as normal. The many different people arriving at, or based in the house were often unaware of each other's presence.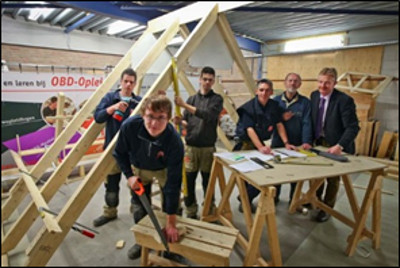 Mia is gratified that her father made no mistakes; he was betrayed. He worked well for the Resistance and the escape lines. The people in hiding and their relatives have always shown warm gratitude to the family and their wartime work. Martin never set out to be a hero. He carried out the work for his Christian beliefs and for his country to be free.
Now seventy years later, a group of boys aged about 15, the same age that Mia was at the time the hide was built, have re-created that 'escape attic' in the museum. They have their whole life in front of them and are learning from the past.
Thanks to Mia Lelivelt for her information and to Ellen van Gilst for encouraging her to share her story.