Christmas Lunch at the Royal Air Force Club
Saturday 10th December 2016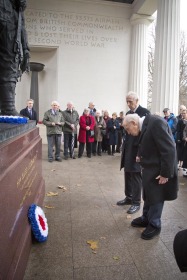 About 80 people who shared an interest in Escape Lines/ Escape & Evasion Matters gathered at the RAF Club in Piccadilly in London to celebrate a pre- Christmas lunch.  The whole event was organised by John Clinch and began with a short wreath laying ceremony at the Bomber Command Memorial before moving onto the Club, where we had our own bar for pre-lunch drinks.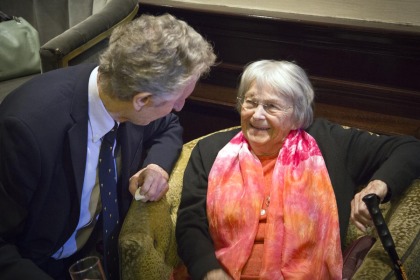 We were lucky enough to have a number of our veterans there, Nadine, Bob Frost and Gordon Mellor amongst them as well as visitors from far and wide, including Kim Del Vecchio who came over from America, and of course our friends from Belgium, France and Spain.  I was able to speak to a number of the guests who all expressed the hope that the lunch would become something of an annual event, and I am pleased to say that it is very much the intention for it to become a regular on our calendar.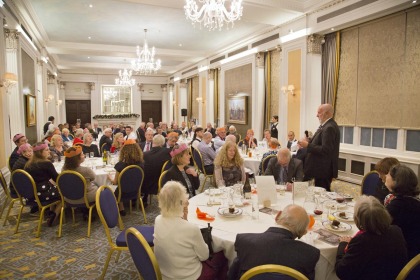 We all sat down to an excellent meal and afterwards people were able to catch up with friends and colleagues before making their way home.  We do know that a number of people did stay in London for the weekend and we hope that they enjoyed themselves!
John did say that he felt it was becoming too large for him to run 'single-handed' so the likelihood is that ELMS will take over the management of the day, while very much welcoming those from the wider community who share our interest in maintaining the history of those events of the 1940's.  Our thanks to John for all his hard work over the last two years in organising such a successful occasion.  Details will appear in the ELMS newsletter and on the website in due course, so please keep checking for information, but please 'pencil in' Saturday 9th December 2017 as a likely date.  We look forward to seeing you all there again later this year.