ELMS Summer Picnic at the National Memorial Arboretum

On Sunday the 10th August 2014 the annual ELMS gathering and picnic took place in the Allied Special Forces Memorial Grove at the National Memorial Arboretum – it was certainly a 'date to remember'!
The previous day had provided 'wall to wall' sunshine with temperatures of 23°. BUT
Hurricane Bertha, en route across the Atlantic, had plans in store for our Sunday picnic! By 8am storm clouds were gathering over the Arboretum and by 9am the deluge was upon us and thunder was rumbling!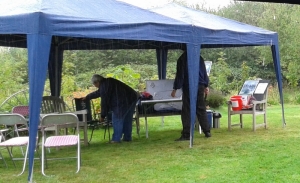 – The tents went up in pouring rain.  However, in true Brit style, rain didn't stop play; the tents went up, the chairs went out – and all the volunteers got wet. The Sheffield Pipe Band arrived; Plan B went into action and they played to all NMA visitors in the main concourse. There were lulls in the rain, and fortunately one occurred just before mid-day allowing the band to march down to The Grove, followers and visitors in their wake.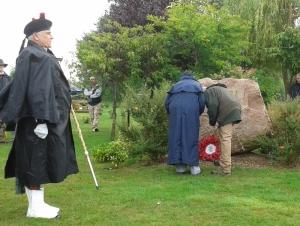 – Roger Stanton and Lucie Wilkinson laying the ELMS wreath at 1200hrsAt mid-day a short wreath-laying ceremony took place at the ELMS Home Run memorial, before about thirty supporters and the band, to commemorate the work of the escape lines of WW2, their helpers and evaders. Roger Stanton, Director of ELMS, explained the significance of the occasion, linking the day's atrocious weather to the conditions experienced by many escapers, evaders and their guides during their crossings of hostile mountainous terrain on their way to freedom. Roger and former escape line courier Lucie Wilkinson then laid the wreath to the accompaniment of a lament by a lone piper.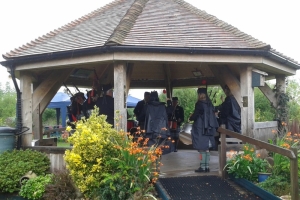 The band then took up position in the shelter of the Sun Room, to entertain the assembled group during their picnic lunch.
Of course, true to form, the tents got packed away [still dripping] – and the sun came out!!
However, by that time most of those who had planned to attend were either still stuck in flooded traffic jams on motorways or had eventually managed to return home. Thanks to them for making the attempt and thanks especially to everyone who made it – the volunteer workforce, the band and the picnickers.
Better luck next year – please join us for our annual picnic on Sunday 9th August 2015 – and pray for better weather!