FAMILY TRIP TO BELGIUM APRIL 2016 – SUMMARY
(The figures in brackets refer to footnotes which can be found at the end of the article)
The family has on several occasions visited the site where Sgt Ronald Shoebridge was shot down over Hamois in Nazi-occupied Belgium in 1942. The purpose of this latest visit was to retrace Ron's time on the run from the crash site in Hamois in the early hours of April 28th until his arrest by the Gestapo in a Brussels dawn raid on about 15th May. It was also to find out more about the people in the Belgian resistance who helped him and other allied airmen.
The trip took place from 1st to 4th April 2016. We were very aware of the terrorist attacks at Zaventem Airport and Maelbeck metro station ten days earlier and the security arrangements at the main railways station were reassuringly tight. We avoided the metro so mostly walked around and between the neighbourhoods where Ron had been hidden. The security arrangements were a stark reminder of what Ron must have faced on a much greater scale.
Background[1]
On 10th May 1940 Germany invaded neutral Belgium, Holland and Luxembourg. The Belgians surrendered on 28th May. King Leopold III and Queen Mother Elisabeth spent the war in self-imposed captivity, which was later widely viewed as collaboration. The Belgian Government went into exile, first in Bordeaux and subsequently in London. Belgium was liberated between September 1944 and February 1945, but many Belgians remained in captivity in Germany or Austria until the end of the war in May 1945. The King's brother acted as regent from 1944 to 1950 and Leopold abdicated in 1951.
About 5% of the Belgian population were involved in the Belgian resistance to the German occupation, the percentage being rather higher in the French-speaking areas of Wallonia and Brussels than in Flemish-speaking areas. Resistance fighters who were captured could expect to be interrogated, tortured and either summarily executed or sent to a concentration camp[2].
The best-known of the Belgian resistance networks, The Comet Line, organized by Andrée (Dédée) de Jongh, involved some 2,000 resistance members and was able to escort 700 Allied servicemen to Spain (including Airey Neave and Ron's pilot, Larry Carr).The line fed and provided civilian clothing for the pilots, but also forged French identity cards and rail fares.  Since the airmen also needed to be hidden in civilian houses for prolonged periods of time, escape lines were particularly vulnerable. During the war, 800 members of the Comet Line were arrested by the Gestapo, of whom 140 were executed.
Friday 1st April 2016 – Brussels
We travelled to Brussels-Midi by Eurostar and walked to the Aparthotel in the suburb of St Gilles where we were staying. I met James from the Charleroi airport bus at Midi station – it seemed quiet for a Friday evening. Not surprising though, under the circumstances.
Saturday 2nd April – Brussels, Spontin, Hamois and Ciney
On our second day we headed for the Belgian Ardennes to where Ron and crew were shot down. Ron was the plane's observer (navigator).
Halifax crash site Hamois guarded by German soldiers – given to us by Mayor of Hamois 2008. 
Their relatively new Halifax plane from RAF Dalton en route to Cologne had been shot down near Hamois. There is a memorial at the crash site to the three crew members who died in the crash, a Welshman, a Yorkshireman and a Scot[3] (see below) The four survivors landed by parachute over a wide area. Although it was after midnight, the sound of a crashing plane woke a number of people who went to help the Allied airmen. Ron (then 22 and his co-pilot (Bill Ralston[4], then 27) were given civilian clothes and taken by a local teacher they met to spend their first night in Spontin[5].
Larry Carr, the pilot (then 22), met a M. Wilmet and the Gendarme Sgt Louis Massinon who allegedly asked if he wanted to return to England[6]. Having been helped to bury his parachute and spent time with the Wilmets in Hamois, Larry spent his first night at the farm of Francois Devaux.
The fourth surviving crew member H "Dixie" Lee was befriended by Belgian villagers but soon denounced, captured and sent to Stalag Luft 1 near Barth on the Baltic coast of Germany.[7] A prison social worker[8] in Hamois put the gendarme Massinon in touch with the Comet Line. Massinon reported the crash but said there were no survivors. He and others later accompanied Larry Carr to Brussels where the Comet Line took over. He was arrested for his actions in August 1942 and never returned.
Spontin
The nearest station to Hamois and Spontin is Ciney, which is about 90 miles from Brussels and takes about 1.5 hours by train. We went to Spontin first.  It is a pretty village set in rolling countryside, with its own castle set. In 1942 it was connected to the railway and there is still a tourist rail line from Ciney to Spontin (pictured below).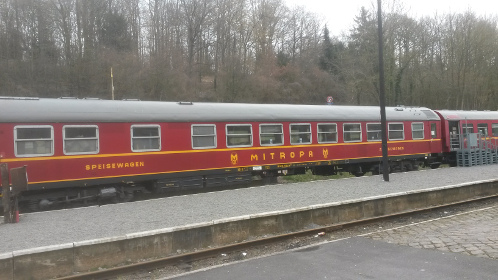 Spontin village and massacre monument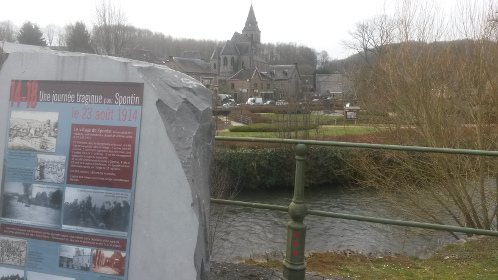 There is a recent monument in Spontin which may help explain why people in this part of Belgium were so helpful to Allied airmen at great personal risk to themselves.  On 23 August 1914 invading German troops killed 45 civilians in and around Spontin, including the mayor and priest, women and children and set fire to the village. Most of the houses in the village were burnt and the church and town hall completely destroyed.
Twenty eight years later residents were sheltering Allied airmen. We already knew Ron and Bill had spent their first night at 64 sur la Tienne, home of Madeleine Feraille and husband Ferdinand Paye and had been taken there by a local teacher[9]. However no street of that name had shown up on Google maps. We asked a local resident who explained that the Rue du Hêtre Pourpre behind the cemetery was known locally as "sur la Tienne".
Comptoir de Famille, Spontin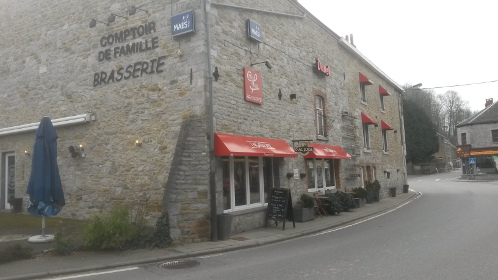 After this conversation we had lunch in one of two restaurants in the village, the Comptoir de Famille . After the lunch we asked the waitress about "sur la Tienne", the Feraille family and taxis to Hamois (there are none!) and explained the reason for our visit.
The waitress fetched the patron, Julien Barthélemy, who was very interested in our story and brought his grandmother's photos and some books by a local historian[10], He was aware of an Allied plane crash landing in Spontin in 1944 and gave us a photo.[11] . He was also aware of another crash at Hamois, 20km away. He suggested we speak with Madame Ju-ju, who still lives in "sur La Tienne" and whose adoptive mother had been Madeleine Feraille Paye. He drew a sketch map of how to get there.
We walked up a side street over the river and past the elementary school and cemetery to find the house we had been told about. Not really expecting a reply, Angela knocked on what is now number 7 Rue du Hêtre Pourpre (see below, view from the rear).  Madame Ju-ju (Juliette, née Paye) answered and after a few moments of wariness was very welcoming and helpful. She recalled her mother sheltering allied airmen though she did not recall specifics, she had been only 8 at the time. However she knew someone who had been very involved in the Comet line, Elsie Maréchal, whose mother had been English.
Sur la Tienne, Spontin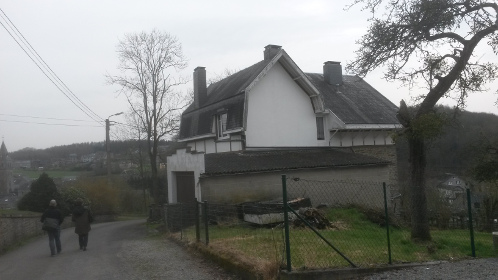 Madame Ju-ju telephoned Elsie while we were there. Angela spoke to Elsie in French until it was clear she was completely fluent in English. I also spoke with her and, at her request, promised to send our story to Roger Stanton, Director of WW2 Escape Lines[12] She did not recall Ron as such but had been involved with her family in sheltering allied airmen, with terrible consequences for them all.
Elsie's mother had been born Elsie Mary Bell in Acton in 1894, and became a teacher. While working in London during the First World War she met a young Belgian soldier, Georges Maréchal, who was recovering from pneumonia he had caught in the trenches. They married in 1920 and went to live in Germany where Georges was working in the High Commission. In 1929 Georges returned with Elsie and children Elsie and Robert to Brussels.
From early 1941 the family were involved in the Belgian Resistance, the two Elsies being part of the Comet network. Like many others involved in such networks, they were eventually betrayed by someone who had been captured and interrogated by the Germans. What happened to them next is at the end of this story.
Elsie Maréchal, now 92, lives in Rixensart near Waterloo, to the south of Brussels. We thanked her on behalf of the family for all she and other members of the Comet Line had done to help British servicemen.  She asked that I contact Roger Stanton with an account of our story for the newsletter he edits. I have contacted Roger and have promised to send him a copy of this summary.
Returning to April 28th 1942, a relative of Madeleine Feraille, Elisabeth Feraille-Warnon[13] had been holidaying in Spontin with her friend and house mate, Elisabeth Liegois[14] when Ron was shot down. The two women must have been asked to escort Ron to Brussels from Spontin station via Ciney and we know that they later sheltered him and Bill Ralston at their house in St Josse-ten-Noode, Brussels.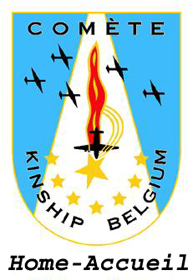 Elisabeth Warnon stayed in touch with Ron and family. They stayed with her in 1973, when Ron took some of his family back for a visit. Born Elisabeth Feraille, in a middle class family in the Belgian Ardennes, in May 1936 she married Jean Warnon, a law graduate. Jean was killed in action in May of 1940, during the Battle of the Lys, when the Belgian Army delayed the Nazi invasion for three weeks, long enough to help the British to save their Army at Dunkirk.
As a young widow, Elisabeth began to work in the underground Comet line (their website logo pictured left) and Elisabeth Liegois joined her.
Hamois
We found a taxi company in Ciney who agreed to come to Spontin and take us the 20km to Hamois. We walked to the old station (below) where Ron would have started his journey to Brussels. The taxi picked us up there. We told the driver our story and, as we were not quite sure where the memorial was, he stopped at a bar on the outskirts of Hamois where they knew the memorial well and gave us directions. The memorial is on the Chausée de Liege and you can find a 2009 picture of it using Google Maps.
Spontin old railway station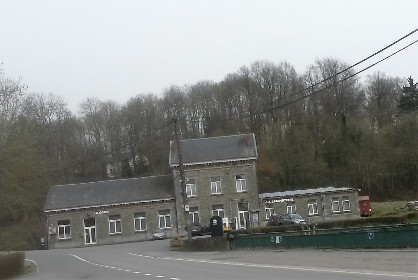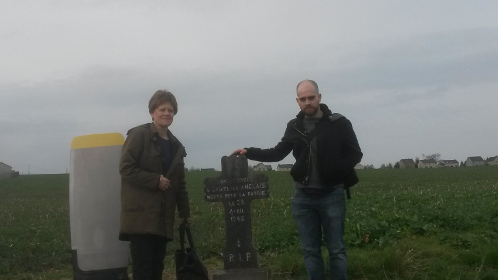 Crash site memorial, Hamois with Ron's daughter Angela and grandson James
As we had been to the memorial before we recognised the site when we came across it. We were rather disappointed to see that it looked less well cared for than we remembered it being in 2008, and no longer had fresh flowers[15]. Instead It had a large yellow-tipped object to the left of it which we thought at first was some kind of street furniture such as a speed sensor. However it was our driver who suggested that it was a propeller from a Halifax.  We took a closer look and all the writing on the base is technical and in English so we think he may be right.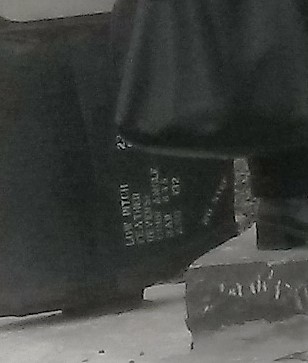 Close up of "Halifax propeller", Hamois showing writing in technical English
The taxi driver took us back to Ciney. for the train which covered the same route Ron, Bill and Larry Carr will have taken in 1942. We know that in Larry Carr's case there were elaborate arrangements for guides/helpers to get on and off at different stations to avoid detection. He was taken by his host on the first night, farmer Francois Devaux, to the station before Hamois, Bormenville and got on to the 3rd Class compartment with a guide (Fernande Pirlot). When they pulled into Hamois Sgt Massinon got on too. They changed trains in Ciney and were joined by Renee Donatil who had links to the Comet Line and all four travelled the 90 miles to Brussels. It seems safe to assume a similar arrangement will have been made for Ron and Bill as we know that they were taken to Brussels by Elisabeth Warnon and Elisabeth Liegois.
Sunday 3rd April – Ghent and St Josse-ten-Noode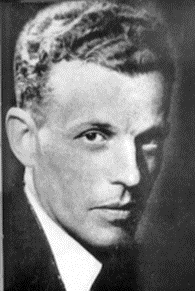 Back in Brussels we started with the St. Josse-ten-Noode suburb in inner north east Brussels, now  an ethnically diverse area on the edge of the central business district and its skyscrapers.
In 1942 Ron and Bill spent their second night on the run at the house of lawyer Joseph (Emile) Coomans at 30 Rue de l'Union in St Josse
The mayor of the suburb, M Petre was in on the conspiracy to hide them. Coomans got in touch with the head of the Comet Line in Brussels, Baron Jean Griendl (agent Nemo, see right).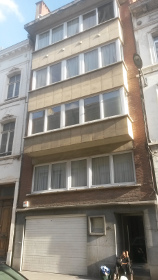 The Coomans' old house is a four storey building in a quite a pleasant street, While there arrangements were made for Ron and Bill to move on to stay with Elisabeth Warnon and Elisabeth down the hill at 16 Rue van der Hoeven. They were taken there by Mme Eecklaers-Rahier.
Coomans house 30 Rue de l'Union, St Josse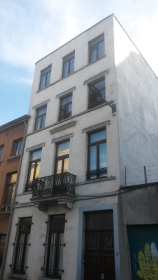 We walked from the Coomans old house down the hill to Rue van der Hoeven and took pictures of No 16 where Elisabeth Warnon and Elisabeth Liegois had lived and had sheltered Ron and Bill for their next three nights.
Today the house has a garage and is divided into flats (and may have been in 1942). The street was crowded with children playing outside and someone sitting on the front step. We spoke with a woman who asked us what we were doing since she lived in a flat on the 3rd floor. We explained that our interest was about 74 years ago..
It was while he was staying with the two Elisabeths that RAF Dalton wrote to Ron's family informing them that he had not returned to base on 28th April "…unfortunately, we cannot give you any information as to what may have happened"
Also while staying here they were visited by Baron Jean Greindl[16] after which one of the Elisabeths took Ron (and possibly Bill) to Mme Jeanne Hubert at 12 Rue de la Grosse Tour in the inner southern suburb of Ixelles.
The graphic shows Safe houses used in Brussels.  (Ron & Bill black squares; Larry blue; all three red; Gestapo grey square; White square failed rendezvous in St Josse-ten-Noode
Monday 4th  April – Brussels
We went to find the house at Rue de la Grosse Tour. The street is directly off the fashionable Avenue Louise shopping street. The rest of the street is old but No 12 is missing, except for a lock-up garage. This caused us to wonder whether the Nazis demolished houses where allied servicemen had been sheltered (we were later told that this was not the case).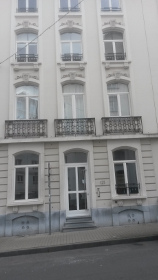 On May 3rd Ron and maybe Bill were taken from this address by another guide, Mme Hallett (nee Edwige Wasserman, Swiss by birth) to spend the next two nights at 125a Rue St Gilles Jourdan in nearby St Gilles, the home of nurse Hubertine Colin (left). This safe house was very close to the apartments where we were staying.
On day 8 (May 5th) the plan had been for a group of escapees and their guides to meet up to prepare to leave for Spain via France in 19 hours.
Larry Carr was taken by his guide and host (Mme Paul Rooselaerts from 26 Rue Jeanne d'Ardennes in Ixelles) for a rendezvous at the Place St Josse but only Ron and his guide (not known) turned up. It will have been the first time Ron and Larry had been together since the crash. It is not known why Bill was not there too.  The airmen later discovered the reason no-one else had turned up was because the resistance had been infiltrated and those planning the escape (agent Micheli and a Belgian agent from London, Charles Morelle) arrested.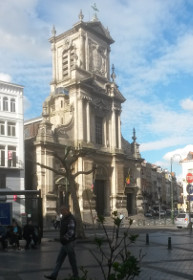 After the failed rendezvous Larry and Ron were taken by their guides to a different safe house. They went to the Lizins (Maurice, wife Anna Kurtzen, son Pol and Pol's future wife Germaine Diedens[17]) in 112 Rue de la Victoire, St. Gilles where they spent 5 nights.
On their second day there Ron and Larry learned of the arrests of Micheli and Morelle and that imminent plans for the two of them to escape via Paris or Valenciennes had been dropped. Also while they were here, they were rejoined by their fellow crew member Bill Ralston.
To reduce suspicion Ron and Bill were moved on for a couple of days to the western suburb of Anderlecht. On day 13 (May 10th) agents Andre Dupont and Hedwige Hallett-Wasserman took them the 4-5 km to stay with Mme Fernande Hoffman at 41 Rue Henri Vieuxtemps who it is suggested was a relative of the arrested agent Morelli. We did not have time to go to Anderlecht but the picture below shows the house.  Larry Carr remained with the Lizins.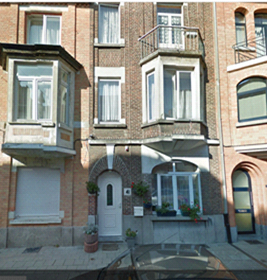 On day 15 (12th May) Ron and Bill rejoined Larry Carr at the Lizins but they agreed it would be safer to split up so Larry left. He was taken by guide Peggy van Lier to the home of Carl Servais in Laeken, NW Brussels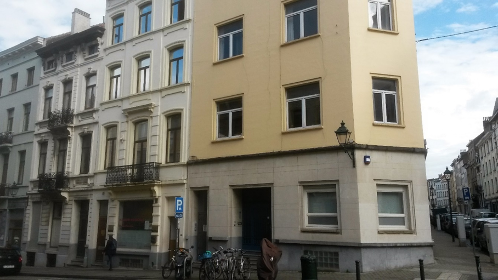 Linzin House, 112 Rue de la Victoire, St Gilles (where Ron and Bill were arrested).  Entrance to right of parking sign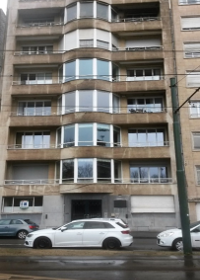 Former Gestapo HQ, 453 Avenue Louise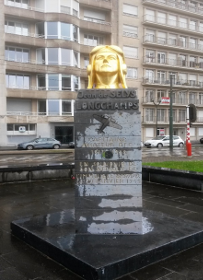 An interesting footnote is that a Belgian aristocrat who joined the RAF, Baron Jean Selys de Longchamps (29) mounted an unofficial solo operation against the building which he attacked with blazing machine guns In January 1943, causing the Gestapo to abandon the building. Baron Selys returned to his base in Kent where he was demoted for mounting an attack without permission but also awarded the Distinguished Flying Cross for bravery! There is a statue and plaque to him outside the building. He was killed in an air accident in England not long after and is buried near Ramsgate
Monday 3rd April (continued)
Over lunch in a Spanish restaurant near the Place St Gilles, Angela called Brigitte d'Oultremont whose number she had been given in Spontin by Madame Ju-ju. Brigitte effectively runs the Comete line and her father was a member. She was interested in our story and is coming to London 16/17 July when we hope to meet her.
What happened next to both Ron and the brave people who helped him?
Ron wrote to Thelma from the PoW camp on 2nd July 1942, At this time he was probably in Stalag Luft III [18]in Sagan. His capture was announced on German radio on 23rd July and by British newspapers the following day. Also around this time he was transferred to Stalag VIIIB (later Stalag 344) Lamsdorf, about 150 miles to the East. What happened to him between about 15th May and the beginning of July? Given the experiences of others it is possible that he and Bill will have been taken to St Gilles prison which was used for among others ".. Allied servicemen who were held for weeks before finally being shipped off to POW camps in Germany[19].."Ron wrote that he was in the camp with Dixie Lee. Bill Ralston was also in this camp. Stalag 344 Lamsdorf was evacuated in advance of the Red Army in February 1945 and Ron took part in the 800 mile "Death March" to Germany. He returned to the UK on 21st April 1945 after 3 years captivity, aged 25. He kept in contact with many of those he had met during his time in Belgium and went back with his family twice in 1973 (pictured left at Hamois memorial).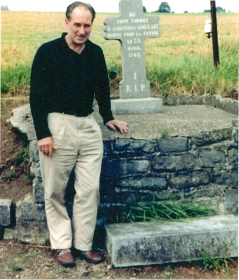 Larry Carr successfully escaped with Dedee de Jongh reaching Paris on May 20; Spain on May 22nd; Gibraltar on 1st June and Scotland on 23rd June 1942. He wrote to Ron's mother reassuring her that Ron had survived the crash but had been captured. Larry met Ron's mum and Thelma in Croydon on July 18 (82 days after the crash). " After some leave, Larry Carr returned to flying duties, but his detailed knowledge of the helpers, and the escape lines prevented him from returning to operational flying, and he flew with the Airborne Experimental Unit, and later with a communications squadron, ending the war in Norway. Following his evasion, he was awarded a Mention in Despatches" (Graham Pitchfork)
Hamois; 10 August 1942 Gendarme Sgt Louis Massinon and agent Fernande Pirlot were arrested and sent to concentration camps.. Louis Massinon died in Gross Strelitz concentration camp, aged 42[20]. Fernande Pirot survived Ravensbruck. M Wilmet escaped by hiding in the cellar of his own house for two years before the liberation in September 1944. His son told us on our 2008 visit that he had to call his father "Uncle Joseph" to allay suspicion.
Baron Jean Greindl (Agent Nemo) head of Comete line in Brussels who visited Ron and Bill at the 2 Elisabeths. He was arrested on 6 February 1943 but killed in bombardment of Etterbeek barracks 7 September 1943, aged 38
Maréchal family: On 18 November 1942 the whole family was arrested and taken for questioning. Elsie Maréchal was taken to the notorious Rue Traversière police station. During interrogations, she was beaten but refused to give away the resistance. She was then sent, along with her parents, to St Gilles Prison. Her brother Robert (16) was also imprisoned, but released after two months.[21]The rest of the family were kept in solitary confinement and repeatedly, and often brutally, questioned. They refused to reveal what they knew and on 15 April 1943 they were tried, found guilty and sentenced to death. On 20 October 1943 Georges and several other men were executed by firing squad.[22]On New Year's Day 1944 the two Elsies left the Saint-Gilles prison  and began nearly eighteen months of being moved around between various prisons and concentration camps, including Ravensbrück (the women's camp) and finally Mauthausen in Austria (mostly for political prisoners). Fortunately they survived and were eventually rescued by the Swiss Red Cross. We were told that the younger Elsie had suffered frost bite which means that she is now confined to a wheelchair.
Elisabeth Warnon was arrested in 1942, and also sentenced to death by a tribunal of the Luftwaffe. Her sentence was commuted to life imprisonment by intervention of Queen Mother Elisabeth of Belgium. She was then deported to Concentration Camps, at the start of 1943. She also survived the Ravensbrück and Mauthausen concentration camps,
Elisabeth Liegois was also arrested and survived the prisons in Brussels and Germany as well as Ravensbrück and Mauthausen concentration camps.
Charles Morelle: Who was to have taken Ron and Larry to Spain but was arrested 6th May 1942. He died in Dachau concentration camp near Munich 18 May 1945 (ten days after VE day), aged 30.
Germaine Diedens & Pol Lizin: Pol was 16 when the Gestapo raided his house and took away Ron and Bill. It is not known what happened to his parents, Maurice and Anna (nee Kurtzen). Germaine was 19 and a Comet line agent (Code name Katia). She was arrested and sent to Ravensbruck and Mauthausen concentration camps[23]
Carl Servais and Peggy van Lier who sheltered Larry in Brussels escaped to England.  Correction added 04/06/2016 courtesy of Carl Servais' grandson.  Carl Servais was in fact captured by the Germans and held in captivity for some months.  He was eventually put on the so called 'Ghost Train' which was supposed to take prisoners to Germany but was in fact disrupted by the Belgian railways staff and was eventually abandoned by the Germans and 'rescued' by the British.
Brussels: was liberated by Welsh Guards on 3rd September 1944. The Nazis mounted a huge counter-offensive in the Ardennes in the winter of 1944/45 which got within 12 miles of Hamois. Belgium was completely liberated in February 1945
Ian Hammond
April 2016
[1] Wikipedia articles on the Belgian resistance and the Comet Line
[2] The Germans requisitioned the former Belgian army Fort Breendonk, which was used for torture and interrogation of political prisoners and members of the resistance. The Gestapo was effective at using informants within groups to betray whole local resistance network. In total, 30,000 members of the resistance were captured during the war, of whom 16,000 were executed or died in captivity.
[3] Sgts Thomas Kenneth Robinson, Iorwerth Edwards James Garroway. They are buried in Heverlee cemetery, near Leuven.
[4] from New Brunswick, Canada
[5] By Jean Xenseval a teacher in the nearby hamlet of Natoye.
[6] From "Shot down and on the Run" by Graham Pitchfork
[7] Comete Line website. In a 1954 newspaper article Lee says ironically his arrest was witnessed by Larry Carr in civilian clothes but unable to do anything about it
[8] Renee Donatil
[9] Jean Xhenseval
[10] Jean Germain
[11] It turns out this was an American B17 bomber based at Kimbolton in Bedfordshire
[12] Roger Stanton,  – ww2escapelines.co.uk
[13] Comet code name Nounou
[14] Comet code name Constance
[15] The memorial with flowers is still visible on Google maps
[16] Head of the Comet Line in Brussels
[17] Agent code name Katia-Margoton
[18] Later scene of The Great Escape
[19] For example Harry Levy was a wireless operator on a bomber shot down over Belgium on the 1st August 1942. After evading in Brussels until the 8th August he was arrested and taken to St Gilles. From http://home.clara.net/clinchy/neeball.htm
[20] Comet line: Other accounts suggest that he died in Gross Rosen concentration camp in February 1945
[21] Daily Telegraph http://www.telegraph.co.uk/history/world-war-two/9930526/The-secrets-of-the-Second-World-War-Comet-Line-are-revealed.html
[22] Wikipedia article on the Maréchal family
[23] Source: Comet line website