Stan 'Paddy' Hope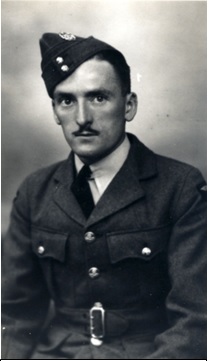 8th December 1944
Flt/Sgt – Navigator – 504 Sqn
Mosquito
RAF Benson
Photo Reconnaissance – Vienna Area
Aged 26, and in a 'reserved occupation' Stan was considered 'too old to join the RAF'; so he returned to the recruiting office with a different story! On completion of his training he was posted to 504 Squadron RAF [Photo Reconnaissance Unit] flying as a navigator in Mosquitos from RAF Benson. There he completed many secret missions over Europe performing aerial photography for Bomber Command and the Intelligence agencies.
On his twentieth operation, on 8th December 1944, to the Vienna area, the aircraft developed a fuel problem. Stan sent a 'Happy Christmas' message to his base and bailed out. After sorting himself out he began walking. He cautiously approached a farm house, where he received food and drink and the promise that they would dispose of his parachute. At night Stan moved on and found food and drink at another farm. He headed in the direction of Halle in Belgium where his Grandmother had lived before the war.
Stopping to eat his sandwiches on a railway embankment while watching a German troop train pass by, Stan approached the Geeraerts family, who lived near the railway crossing. They provided him with civilian clothing and food and rehearsed him in French phrases to enable him to buy a train ticket to Brussels.
Once in Brussels, as instructed, Stan sought out the Cafe L'Ancienne St Barbe, where he was assisted by the owners who introduced him to Maurice Leroux. Maurice took Stan to his family's safe-house in Brussels, where Stan stayed until a link-up with the Comète Line was made a month later. During that period Maurice often took Stan out into the city, including to a football match where, as an avid Liverpool supporter, Stan got carried away with excitement and yelled out 'Corner!' in English!
Once in the hands of Comète Stan was moved to Paris, where he joined evaders Sgt Bill Greaves and Sgt George Ross and the Comète Line founder Andree De Jongh. On the 13th January they travelled by train to Bayonne, where they were met by Elvire de Greef and taken briefly to the home of the Lapeyres, then back on the train to St Jean de Luz, and in cold, torrential rain to Françia Usandizanga's farmhouse at Bidegain-Berri, the last safe-house of the Comète Line that was based in France.
It was there, while resting up for their trek over the mountains, followed by the crossing of the Bidassoa River into Spain, that the safe-house was 'blown' and all occupants arrested at gun-point. Hostile and brutal interrogations followed. Andree and Francia were finally taken to Ravensbruck concentration camp, Stan was moved to Bordeaux Prison and then to Frenes Prison in Paris before being handed to the Gestapo in an attempt to discover more information about the Comète Line, which he did not have.
After two weeks in the hands of the Gestapo Stan was handed over to the Luftwaffe and sent to a POW camp in Germany. He arrived in a bad state but sadly the other prisoners initially gave him the 'cold shoulder', suspicious of him as he had been in the hands of the Gestapo. It took time to adjust into camp life and to gain their confidence.
Aged 84, with the help of friends, Stan embarked on a retrace of his evasion and met up again with many of his former helpers.
Stan 'Paddy' Hope died on 22nd December 2013.