NEWSLETTER 5 – 2005
NEWSLETTER 22 – 2010
Golpak – "Number One Friend Belong Australia True" & "The School That Fell From The Sky"
By Roger Stanton
---
It all began on the 3rd Nov 1943. Bill led his Squadron (22 Squadron) on a sortie from Goodenough Island, just north of Milne Bay, to attack the Japanese invasion barges that had been gathered in New Britain. Flying a Boston armed with bombs, and flying at low level, David successfully bombed the targets. The AA fire from the ground was very heavy, and just when he was about to target a bridge with his front guns his port engine packed in. After congratulating himself on having a second engine, a quick glance at his starboard engine soon shattered his illusions; he saw a shell exiting the top. With both engines out of action he had no option but to ditch. He landed like a flying boat, the dinghy popped out, and they paddled the 400m towards the shore. Fortunately, the jungle ran straight down to the shore-line and they were able to get into cover before the Japanese search teams could locate them.
After eleven days on the run, and surviving on the jungle and their survival rations, the men found a track that led to a native village. Friendly natives took them in, gave them food and water, and the men slept happily in smoke filled huts. This was paradise compared to sleeping on the jungle floor with the monsoon rains, mosquitoes and leeches for companions. After a short while the natives took their evaders to another village where they were introduced to a man called Golpak. Golpak was the man in charge of the area. He wore an old Aussie hat, carried an old Winchester rifle, and greeted the men with a smile saying "I am number one friend belong Australia true". He said he would look after them, hide them from the Japs, and return them to their own forces over 200 miles away across the Coral Sea!!!
Golpak kept his word. He had done it for others. The Japs were however quite near to the village and the two airmen were moved very quickly on a number of occasions. On one occasion they hid in deep water while the Japs searched the village, only to be told by Golpak when they got out, that the water was full of crocodiles. After two months being cared for by the villagers, and Jap patrols passing nearby and through the village of Sali, the two men were awoken one morning to the cries of "Japan ee cum". A Jap patrol had raided the village early that morning and was arresting many villagers. Bill and Dave decided that they would leave the village for good rather than risk the lives of the villagers.
On advice from Golpak, the two men decided that they should head north across the mountain ranges to try to reach a group of Aussie Coast Watchers (SAS role), who had been inserted into enemy territory to report on enemy shipping, aircraft, and troop movements. They worked as very small teams carrying out sea and road watches, and tried not to make contact with the Japanese. They were supported by local people.
After very arduous trekking with a guide, much of the walking done in pitch darkness, David and Bill reached the area but were unable to find the Coast Watchers, – who instead, eventually found them instead!
Once contact was established, the pair then met up with Fred Hargesheimer, an American pilot evader who had also been hidden by Golpak's group in another village. David and Bill had been looked-after by natives for nearly three months, but Fred had been hidden for nine months, and had spent weeks before that living in the jungle where he had developed fever and dysentery.
On Saturday 05 June 1943, Fred Hargesheimer was on a photo reconnaissance patrol in a P-38, over the north coast of New Britain. The Japanese were building up their forces around the Island of Lolobau, and photo intelligence was an urgent requirement to allow the B-25's to do their job. While photographing what appeared to be a Japanese airfield his P-38, known as 'Eager Beaver', was attacked by a Japanese fighter. A parachute descent was the only option and, after crashing through eucalyptus trees, he landed in mud. Found to have a nasty head wound, he crushed sulphanilamide tablets, sprinkled them on to the wound, used pieces of parachute silk as a pad, and used a bandage to hold the lot in place. Armed with the issued survival kit, a booklet called 'Friendly Fruits and Vegetables', and wishing he had read the literature and listened to the survival briefings, Fred took stock of his situation. Seventy five miles of thick jungle, and two hundred miles of open sea needed to be covered to get back to his base. There were no paths to follow, a wall of foliage to get through, so with a compass in his hand, he set a course to reach the mainland.
By July 06, after a month in the jungle, having lost a lot of weight living on leaves, roots, snails and fish, and looking like a scarecrow with a beard, Fred felt tired, hungry, and very much alone when he heard voices. He froze; he had been spotted by locals in a canoe. Moving cautiously, he walked toward the canoe. The leader caught Fred's arm, and a warm sympathetic smile came to his face. Fred was given food and shelter for the night, and next morning he was taken by canoe to a village.
On arrival at the village of Ae Ae (later Nantabu) a bed was made for him in a hut which he shared with the family of Luluai Lauo. Luluai was taken off for questioning on a regular basis by the Japanese so, during those times, Fred was often hidden in a mangrove swamp. When walking around the village Fred was always followed by small children whose job it was to erase his footprints.
For ten days Fred suffered badly from malaria, fever, and profuse sweating, during that time the villagers watched over him and nursed him. Later, hostile natives led a Japanese patrol to the village to search for the airman. Despite the threats of execution and beatings, no member of the village, including the children, 'knew anything about any airman'! To be caught in a village by the Japanese would have meant beheading for Fred, and an equally barbaric death for the local population.
The village was later visited by a member of another tribe who wanted to pass a message on to the airman. Very suspiciously, Fred took the piece of paper and saw the name of a Capt Skinner, Coast Watchers. Fred was taken by canoe and introduced to Capt Skinner, the first white man he had seen in over five months.
The Coast Watchers were in radio contact with friendly forces, and reported on the three evaders to their base location. While waiting for instructions the three fugitives worked alongside the Coast Watchers, carrying out intelligence gathering. Finally a message came through instructing the men to go to a pre-arranged RV point to meet up with, what they thought would be, a sea plane that had been arranged to collect them. After a long trek through hostile terrain, the men arrived late at the RV, expecting their pick-up to be blown. However, their transport turned out not to be an aircraft, but a submarine. The American captain, LtCdr Bob Foley, of US Submarine Gato, had remained on post and, on a signal from the ground, lowered rubber boats to collect the three men to take them to Australia.
At the end of the war Golpak was made an MBE for his services to the Allies in assisting evaders and for controlling a network of safe-house jungle villages. When he died in 1959, a memorial was erected in his village on the spot where he first met David and Bill.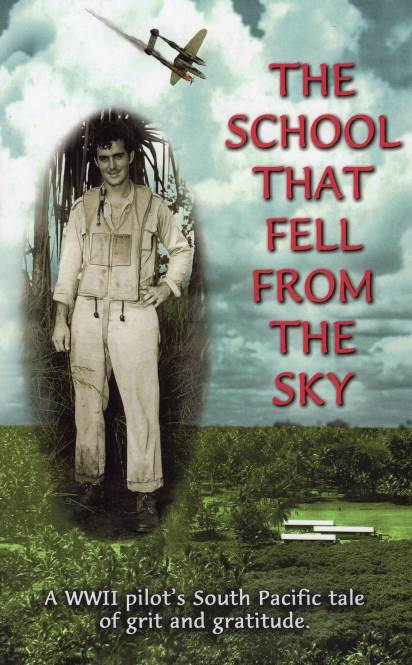 Fred Hargesheimer never forgot his villages or his villagers. After getting his life back together after the war, he decided it was payback time, so in 1961 he started fund raising to build a school in the jungle area of his evasion, to encompass the villages that had assisted evaders like himself, as no schools were available to the villagers at that time. The money came in and the school building began. It was known locally as 'the school that fell from the sky', and was sited in the village of Ewasse, the main village that had hidden Fred; the title of the school today is 'The Airman's Memorial School'. Fred and his wife worked at the school for four years to get it established, and then returned on yearly visits. Before 1961 there had been no education for native children, but since then the school has grown and it can now boast pupils from Ewasse who have graduated from Universities in Australia and had taken up senior government positions in Port Moresby, Papa New Guinea. All credit for the school must go to the evader who never forgot his helpers – Fred Hargesheimer.
Much of the above information was taken from archive information of the Australian branch of the RAFES. Information was provided by AVM Bill Townsend and David McClymont. Operational area New Britain, Papau New Guinea. Details have also been supplied from the recollections of Fred Hargesheimer in his book 'The School that fell from the Sky'.